Emma Watson Talks "Perks of Being a Wallflower"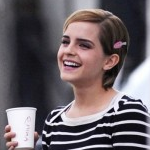 Oct 10, 2011
In a new article, Emma Watson discusses the challenges that went into acting in "Perks of Being a Wallflower," particularly nailing the Americanisms in the film:
"I was very nervous before we started shooting. I was very nervous
about the American accent," she told a handful of reporters outside
Peters Township High School. It doubles as Mill Grove High School in the
story set largely in 1991-92.
Some of her cast mates, after all, had life experiences much like
their movie characters — dances, football games, pep rallies and even
graduation in white gowns (for the girls) and black gowns (for the boys)
and matching mortarboards.
"They went to an American high school, they know what prom looks
like, all these little details that I had no idea about. So I was a
little neurotic.
"My script was covered in notes about all these American words,
American slang. I was quizzing my friends about high school and prom and
everything, and then Steve [Chbosky] was just like, 'Emma, this is great and
everything, but you just really need to let all of that go' because he
said he saw me as Sam, and it was kind of as simple as that."
In the article Stephen Chbosky, the writer and director of the movie, talks about why he felt Watson was so perfect for the role of Sam:
"She's luminous but she's also incredibly approachable, she's very down
to earth, she's very fragile but in this very beautiful way. For me,
that's all the qualities I always saw in Sam. Plus, she can dance. The
girl can dance."
style="overflow: hidden; color: #000000; background-color: transparent; text-align: left; text-decoration: none; border: medium none;">
The article also discusses Watson's relationship with her co-stars, as well as a stunt she opted to do in the movie. You can read more here.