Dan Radcliffe Joins Scream Awards Harry Potter Farewell Event in NYC This Friday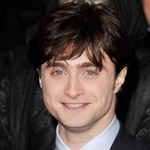 Oct 11, 2011
Actor Dan Radcliffe has been revealed the special guest scheduled to appear as part of Spike TV's Scream Awards Harry Potter Farewell event in New York City this Friday, October 14th. As readers will recall, fans were asked to take part by dressing up like Harry Potter characters for the Harry Potter Farewell event. Thanks to Spike TV, official details and information are as follows:

"COME ONE…COME ALL… COME DRESSED IN ALL THINGS POTTER!!!
CALLING ALL FANS TO JOIN DANIEL RADCLIFFE FOR THIS ONCE IN A LIFETIME [FAREWELL] TO HARRY POTTER!!!!!!
On Friday, October 14th, a select group of 1000 Harry Potter fans will join Daniel Radcliffe in NYC for a final farewell to the greatest film franchise of all time, Harry Potter. The gathering will be used as part of a televised tribute during the SCREAM AWARDS airing on SPIKE TV Tuesday October 18th at 9/8c PM.
To participate, you must be over 18 years old, live in the Tri-State area, be prepared to stay for two hours and come dressed as your favorite Harry Potter character. The time and location are still TBD.
If you are a diehard Potter fan and want to be part of this historic event and request free tickets here.
Let the trending begin! Please tweet your pics, videos and experiences @spike_tv #SCREAMFORPOTTER. That way, the rest of the Potter community around the world can share the fun."
Although the above press release lists the event time as TBD, the ticket site lists the start time as 9:30pm EST. We await final confirmation on location and time from Spike TV.
Leaky will have full coverage of the event; stay close for details!