"When Harry Left Hogwarts" Documentary to be Attached to "Deathly Hallows: Part 2" DVD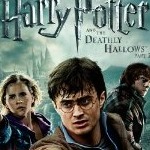 Oct 16, 2011
A forty-eight minute documentary featuring footage from the filming of the "Deathly Hallows" movies will be in the special features of the "Deathly Hallows: Part 2" blu-ray:
BAFTA award-winning filmmaker Morgan Matthews has been given
unprecedented access to the creative decision making processes that have
been kept as a closely guarded secret – until now. Hear the personal
stories of the faces we know, and those we don't, as we come to the end
of one of the most successful eras in cinema history.
You can see the trailer for this documentary here or below.
The blu-ray with this documentary will be sold exclusively at Target. "Deathly Hallows: Part 2" will be released on blu-ray and DVD on November 11th in the US.
Many thanks to Memoirs of a Fangirl for the tip!