Pottermore Behind the Scenes: Creating the Ravenclaw and Gryffindor Crests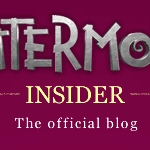 Oct 20, 2011
The Pottermore Insider is giving fans a special behind-the-scenes look at the creation of the Hogwarts house crests illustrations used on the site.
In this first blog post, the step-by-step process for the Gryffindor and Ravenclaw crests are detailed showing preliminary sketches and the coloring process.
In coming up with these crests, created by Atomhawk Design, the Pottermore Insider says:
The starting point for each of the house
crests was the Hogwarts crest, which first appeared on the title pages of the
Harry Potter books, and represents all four Hogwarts houses. This original artwork and J.K. Rowling's
descriptions of the houses were used to inspire four unique house emblems for
Pottermore.
The artists started by talking about the best
way to include the natural elements of fire, earth, water and air into each
house; what the best positions and expressions for the animals would be; and
the most effective way to include the house colours in the final designs.
Read about the complete process at this link. The creation of the Slytherin and Hufflepuff crests will be published next week!