Videos: Dan Radcliffe Reveals "The Woman in Black" Ghost Story Competition, and Reads from "The Woman in Black"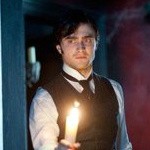 Oct 24, 2011
Dan Radcliffe has announced a ghost story competition on YouTube to celebrate the upcoming release of "The Woman in Black." This contest is open to residents of the UK and Ireland only and submissions are open from October 31st to December 20th. The winner will receive a merchandise set from "The Woman in Black" and a signed poster, a trip to London for the world premiere of "The Woman in Black," and their story will be featured on the DVD extras and will be read by Dan Radcliffe himself.
You can see the official rules for the contest here, and you can watch Radcliffe's announcement of the contest here or below.
And, to give you a taste of what you can expect from "The Woman in Black" movie, there is a video of Radcliffe reading a short passage from the book. You can see that here or below.