"Brooms Up!" Quidditch Documentary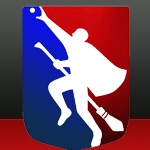 Oct 27, 2011
The IQA have uploaded a documentary about the 2010 Quidditch World Cup IV to their YouTube channel. The film, just over 29 minutes in length, was produced by Boxer Films and Alivan's Wand and Broom Makers and can be seen here on YouTube or below. A synopsis is as follows:

On November 13-14, 2010, 46 colleges, 750 players, and over 10,000 spectators descended on New York City's Dewitt Clinton Park for the fourth annual World Cup, a real-life version of the quidditch game, based on the sport in the harry potter books. Boxer films came to capture the spirit of the event (and the game) that is sweeping the world.
You can get tickets for the fifth Quidditch World Cup at this link!