Pottermore Insider Reveals Making of Hufflepuff and Slytherin Crests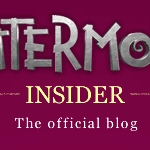 Oct 27, 2011
As a continuation of last week's blog post, the Pottermore Insider is giving fans a look behind-the-scenes at the creation of the four Hogwarts house crests.
Once again, a step-by-step process is outlined, this time for the Slytherin and Hufflepuff crests. The illustrations were created by Atomhawk Design. Read more about it here.
On creating the Hufflepuff crest, the team says:
The Hufflepuff crest proved to be the most difficult creation for the
team. There is a limited amount of detail about Hufflepuff house in "Harry Potter and The Philosopher's Stone" and they were aware that they needed to work a little harder to make
the crest feel authentic and representative of the Hufflepuff nature.
There was also the question of how to show the badger as a tenacious
animal, to show Hufflepuffs as unafraid of hard work.
Also interesting to note is the direction of the Slytherin snake on the crest:
class="p2″>
Some of the Pottermore Slytherin community have already noticed that
theirs is the only animal looking to the left, while the other house
crests have animals looking to the right. This was a decision that came
about during the final stages of design, when the crests were all placed
together.
To read about the making of the Ravenclaw and Gryffindor crests, visit this link.