Pottermore Beta Testing Period Extended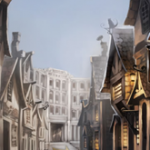 Oct 28, 2011
The Pottermore Insider Blog has been updated to announce that the beta test period for J. K. Rowling's Harry Potter online experience will be extended in order to further improve the functionality of the site. This decision, the blog post notes, follows the gathering of information from the original beta period and will mean that Pottermore will not be open to new users " in the immediate future." Quote:
Since we launched Pottermore, our one million Beta users have given us lots of amazing feedback, and we've been collecting their thoughts and comments so that we can make Pottermore the best experience it can be before it opens to everyone.
After looking closely at all the information that we've gathered, we have decided to further extend the Beta period so we can improve Pottermore before giving more people access. This means the site will not be opening to new users in the immediate future, but please know that we will open registration as soon as we can.
The blog post continues, saying that the site will be offline for two days starting Wednesday, November 2nd, in order to "make a few technical changes behind-the-scenes." As part of this beta extension, Pottermore has set up this new page so users may track updates and get answers to general FAQs about the site.