Video: J. K. Rowling Discusses the Possibility of Killing Ron While Writing the Harry Potter Books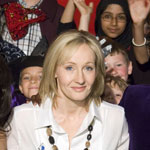 Oct 28, 2011
Video has made its way online from the special features on the forthcoming "Harry Potter and the Deathly Hallows: Part 2" Blu-ray DVD showing a moment from the Dan Radcliffe (Harry Potter) and J.K. Rowling sit down interview where the author talks about the possibility of killing the character of Ron while writing the series. Ms. Rowling explains that during a not so "very happy place" mid way through writing the series, she "started thinking [she] might punish one of them off." In explaining her choice of character, she adds:
"In my absolute heart of hearts of hearts ' although I did seriously consider Ron. Anyway, I can tell you it's a real relief to talk about it."
The full fifty-seven second video clip from the interview can be watched right here:
Thanks to Hypable for the heads up!