Behind the Scenes Clips: Molly Weasley's Famous Line, Dumbledore and Harry's Relationship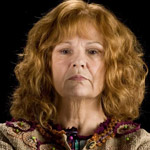 Oct 29, 2011
Entertainment Weekly has released an exclusive behind the scenes clip from the "Deathly Hallows: Part 2" Blu-ray. The clip features interviews with the Weasley actors discussing Molly Weasley's (Julie Walters) famous line in the series when she battles Bellatrix Lestrange (Helena Bonham Carter). See that video here.
Another clip was unlocked by fans playing on the website Harry Potter: The Quest. This new feature focuses on Harry and Dumbledore's relationship through the years and includes previously unseen behind the scenes footage of Daniel Radcliffe and Michael Gambon joking around on the set. See it on YouTube or below:
"Deathly Hallows: Part 2" will be released on DVD and Blu-ray on Nov. 11 in the U.S. and Dec. 2 in the U.K.