Art Directors Guild to Honor Harry Potter Creative Team for Contribution to Cinema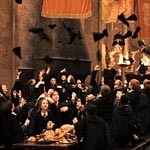 Nov 01, 2011
The Art Directors Guild will present the creative team behind the "Harry Potter" films with the Outstanding Contribution to Cinematic Imagery Award. This will mark the first time a movie series is given the award, according to Deadline Hollywood.
The creative Potter team includes author J.K. Rowling, producers David Heyman and David Barron, director David Yates, screenwriter Steve Kloves, production designer Stuart Craig, art director Neil Lamont and set decorator Stephanie McMillan.
The award will be presented during the 16th annual Excellence in Production Design Awards on Feb. 4 at the Beverly Hilton. Congrats to all being honored!