November Contest: New Philosopher's/Sorcerer's Stone Obstacle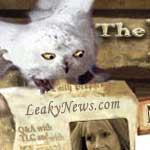 Nov 01, 2011
Imagine you're part of the Hogwarts faculty and Dumbledore has asked you to create an obstacle to protect the Philosopher's/Sorcerer's Stone. For Leaky's November contest, that's exactly what we're asking you to do!
To enter the contest, tell us in 200 words or less which teacher or staff member you
are and describe the obstacle you will design, including how you will
create it, how it works, how to get past it, and any special equipment
needed to do so. To help you know which teachers and staff members were
or possibly could have been teaching during Harry's first year, a list is provided on the bottom of this page.
Entries should be e-mailed to [email protected] by 11:59 pm (EDT)
on 30 November, with "New PS/SS Obstacle" in the subject line of the
e-mail.
Readers 13 years of age and over may enter the contest, including staff members not involved in the judging process. The first place winner will receive a handcrafted wand from Wizard Wood Wands, a copy of the book The Practitioners Guide to Wand Magic by William C. Wilson, and 200 MyLeaky points. Second, third, and honorable mentions will receive 150, 100, and 50 MyLeaky points, respectively.
Complete rules and information can be found on the contests page. Good luck to all who enter!