First Look: "Deathly Hallows: Part 2" Blu-ray DVD Special Features Report, Dan Radcliffe and J. K. Rowling Interview, the Women of "Potter" With New Details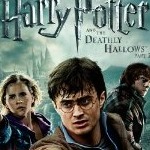 Nov 08, 2011
Leaky has gotten an early copy of the forthcoming "Harry Potter and the Deathly Hallows: Part 2" Blu-ray DVD for review and has a chance to look over many of its special features included in this edition. We will be highlighting different aspects of the DVD's special features and give a full review of the complete Blu-ray edition soon. Firstly, readers will recall various clips making their way online of an interview between Harry Potter author J. K. Rowling and Harry Potter actor Dan Radcliffe about their experiences in the world of Harry Potter. In the much of the full interview, Mr. Radcliffe speaks to Jo about her impressions over the past ten years as she gave over her work to the filmmakers and how the process has been for her.
From the start, Jo recalls, she found the young actors to be ideal for their respective roles as the Trio. In one moment, she shares about the first time she saw Dan as Harry:
"The first time I ever saw you was on the screen in my sitting room at home.
They sent me a video of you… So, I saw you on that audition tape and I don't think I ever really told you, that I found you incredibly moving. At that point, I didn't have a son, and I phoned David [Heyman] up and said he's great, he's fantastic… and I did say to David that it was like watching my son on screen. Because, after all, Harry feels like this ghostly son I've had in my life."
Ms. Rowling goes on to speak to her characters and the actors who played them by describing them all as "far too pretty," but growing to understand that they actors were right for their roles once she met them. She explains:
"It was a quite a big deal for me that I had written a strong female character who was primarily about brains, and that she chose to become a little bit more glamorous (in "Goblet of Fire") as us geeks do in a certain point in our lives. (laughs) I accepted it. Emma is a great access and I loved her as a person. I felt that there were so many connections between her and Hermione that, did it matter that she was beautiful [from the start]? Come on."
Later in the conversation, the pair turns to discussing some of the creative turns the film made and Jo's reaction to a those alterations. She says, "Inevitability you had to depart from the strict storyline of the books… the books are simply too long to make into very faithful films. I can think of many places where it has worked just beautifully." On the subject of changes she requested, Jo recalls one instance with "Harry Potter and the Prisoner of Azkaban" director Alfonso Cuaron in which she halted a creative effect from one scene. Quoteage:
"Alfonso really wanted to get music into the film, and he put the choir in, which I loved. But at one point he had this rather bizarre scene where Flitwick was conducting, and there were miniature people in an orchestra inside of something. I said to him, 'But, why?' I know it's visually exciting, but I think what was part of what fans really enjoy about the literacy world was that there was a logic that underpinned it. There was always a logic to the magic, however strange it became. And I know it's intriguing to people to go through the mouth of whatever it was and to see these little people, but why have they done it? ¦. Normally with the magic, there is a point. So we had a little discussion about that.
The them of logic in the world of Harry Potter continues as a theme from this interview and it picked up again when the actor and author discuss the school setting of Hogwarts and reasons behind Jo's decision to have Hogwarts be a boarding school.
"I certainly wasn't pro-boarding school… it was simply logistics. There is a logic underpinning the world, and if you are a part of a society that is living in secret and you want to gather together a large number of your children and teach them potentially dangerous and explosive things that could expose the whole society, you are going to do that in an isolated place and you're going to probably have to have them board there. It was just logistics. But, of course, there is an appeal to young people– and there was to me– the idea of just being together with young people, and being divested of your parents. I think that's quite appealing. It's much more interesting to write about iof you're talking about kids with kids and the authority not being parental figures. It just allows them much more leeway. So that's why it was, but it was in no way a kind of a yen to re-create any sort of 1940s boarding school in the slightest."
In a moment of levity, Dan and Jo discuss the oftentimes more surreal moments over the past ten years, especially times when thousands of people come to see and possibly meet them at film premieres or book signings. They joke:
Radcliffe: For me, the last premiere was mental because it was pouring rain¦
Rowling: It was mental! It felt more extreme than any of them had. I think that I was in a place of false security in that I felt the books are finished so the excitement would really drop.
Radcliffe: You fool.
Rowling: Was I ever! I got out and it was like aircraft engine noise, wasn't it? It was scary. Were there more people there? It felt like.
Radcliffe: Ir felt like it, because there is this one moment where I looked our over one side and there these hundreds¦ this sort of tumult of people just surging forward¦ and all drenchd. And if there's ever been a moment where I could have absolutely just formed a dictatorship¦ I could have just said, "We'll march on the palace!" (Rowling: Exactly right!) And they all would have joined me at that moment.
¦
Rowling: But, yeah, you get these moments where you think, "Right! Rise Harry Potter fans! Let us march!" (laughs) And you think some of them would. It's lucky that I don't have any of those dictatorial impulses, no.
In another special feature, Ms. Rowling is able to delve into the many female characters in the books and explain how their power and abilities are featured in the books, and, subsequently, in the films. Ms. Rowling and a number of the actresses who play these leading female roles including Helena Bonham Carter (Bellatrix), Julie Walters (Mrs. Weasley), Helen McCrory (Narcissa), Bonnie Wright (Ginny) and Emma Watson (Hermione). One element that Jo goes into in some great detail involves the roles of mothers in the Harry Potter books, particularly the role of Harry's mother. She explains an interesting connection between Harry and Voldemort based on information Jo discovered while forming her Lumos Charity, which works to aid institutionalized children in Eastern Europe. On this subject, Jo relates:
"Some of the many things I found out from being closely with that charity is how much measurable brain damage is done when a child is taken away from its mother and placed in an institution. And when I say "measurable," you can scan the brain and you will see that pathways haven't been made and you can never get that back. So in fact, what I wrote about Harry having been incredibly loved in his earliest days is measurably true. That will literally have given him protection that no one can undo. His brain would have developed in a ways that Voldemort's brains didn't because Voldemort, from the moment of his birth, was institutionalized."
There is much more on these discs, so stay close to Leaky for even more first looks at what else is included in this special Blu-ray edition of "Harry Potter and the Deathly Hallows: Part 2."
This version, along with the standard editions of the DVD, will be released in the United States November 11th, and in the UK on December 2nd.