Rupert Grint Donates Artwork to the Prince's Trust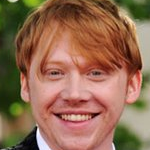 Nov 08, 2011
Actor Rupert Grint (Ron Weasley) has donated an original artwork of his to the Prince's Trust in the South West for the organization's inaugural Evening of Art.
A photo of Grint's acrylic painting can be seen at this link, as well as an image of the actor holding his work.
Grint's painting will be up for auction on December 7, 2011 with all the money raised going to help disadvantaged young people.
An excerpt from the auction catalog talks a bit about Grint's keen interest in art and how he would spend time between scenes on the Harry Potter set drawing:

After achieving an A* grade for his GCSE, Rupert has continued with
his interest in Art, not only with his own drawings but as a collector
too. Rupert has a keen eye for the interesting and quirky; he follows
several artists closely and has become an avid supporter of their work.
Born in Harlow in 1988, Rupert grew up in Hertfordshire and found
recognition at an early age by winning the role of Ron Weasley in the
Harry Potter film adaptation series. Whilst between scenes on set he
would always have a good stock of sketch pads and pencils to hand,
drawing to pass the time.
Today he jumps at the chance to get involved with any art projects,
and loves to push himself, trying different techniques to achieve his
aims.
Thanks to RupertGrint.net for the tip!