Leaky's Harry Potter Home Entertainment Celebration Press Conference Rundown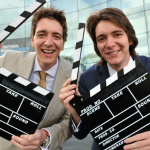 Nov 12, 2011
A number of cast members and filmmakers of the "Harry Potter" films took part in a press conference as part of the Harry Potter Home Entertainment Celebration this weekend at Universal Studios Orlando in Florida. Leaky was in attendance at the press conference and live-tweeted the event via our @leaky Twitter.
In attendance at the press conference were actors Rupert Grint (Ron Weasley), Evanna Lynch (Luna Lovegood), Jason Isaacs (Lucius Malfoy), Mark Williams (Mr. Weasley), Warwick Davis (Flitwick/Griphook), Domhnall Gleeson (Bill Weasley), James and Oliver Phelps (Fred and George Weasley), David Bradley (Filch), George Harris (Shacklebolt), Nick Moran (Scabior) and Stanislav Ianevski (Viktor Krum), along with filmmakers David Heyman, David Barron and director David Yates.
Here is a rundown of highlights from the press conference:
Part One
Rupert Grint, talking about wrapping up the past ten years: "It's weird, it was my childhood. [The end] hard to put into words."
Mark Williams, answering same question: "It's hard to answer because it's never happened before."
Rupert says he took the Deluminator on he last day of filming.
Warwick Davis, on what he got from the series: "All I took was lovely memories with me."
Baron: "The only person who got a wand was the actor who played Ollivander (John Hurt). He asked for it, and we said no, so he took it."
Domhnall Gleeson: "I tried to wear my wedding ring home but got caught walking out."
Baron, on what he'd like to add to the Wizarding World of Harry Potter: "A ride based on the elevators at the Ministry of Magic. Floo powered and all."
Warwick Davis, adds, "The Gringots ride¦ so I could work here."
Rupert Grint speaking to the most important thing your character has taught you, "I think that we have almost become one, always felt as of we have a lot in common."
Stanislav Ianevski on what he learned: "Well, Viktor wasn't vert talkative and maybe why he didn't get with Hermione. So, I learned to be more talkative and outgoing."
Mark Williams: "One of the best things has been working with all the young actors and seeing them grow."
Rupert's odd fan encounter: Following the premiere of the "Harry Potter and the Goblet of Fire" film in New York City, a man in a wheelchair grabbed a hold of the back of his car as they tried to drive away.
Baron: "This really hasn't been a franchise, this has been about filmmaking. About quality. Feel as if we've rather stretched the definition [of franchise].
Rupert Grint talks about his future, says he feels "no real pressure to work right away, kind of enjoying a break," and he just finished a film in Norway about WW2.
Director David Yates answering the hardest scene to film: "Inside the Gringots bank vault. Was a nightmare."
Williams, on the same subject: The night shoot following the Wizard World Cup.
Warwick Davis: "Pretty unpleasant to film the Shell Cottage shore-side scenes. Cold water and bad weather."
Yates on remastering the films: We don't have much material to extend for extended cuts. We used every inch of film we could."
Baron: "Always had trouble finding scenes for the bonus features… We put out all we had."
Yates: "I can foresee a 3D conversion in the cards."
Rupert on last day of filming: "I remember packing up my dressing room and finding toys I brought when I was 11¦ mechanical turtles."
Baron, discussing the possibility of doing more with the Harry Potter characters: 'You could only do anything after the eight films if only it came from Jo Rowling."
Yates on Oscar race: "WB is mounting a campaign and were going to do our best. But, the films are going to be there forever with he fans."
Baron: "There's such a tremendous group of people in front of behind the camera and it would be fantastic if it was recognized by the Academy."
In the London Studio Tour, accruing to Baron, "People can walk through the sets and see costumes props and much more. People who love film and Harry Potter will love it."
Rupert favorite book: Deathly Hallows and was worried that Ron would die in he book, "only recently I found out how close Ron was."
Yates loves the first book the most because "it was the window into the world."
Part Two
First question for the Phelps Twins is about pranking on set, their response: "For legal reasons we can't say them."
Jason Isaacs, talking about his character, "I like to think of myself as Luscious Malfoy." Goes on to say, "All of us struggle [to work with] rubbish writing, this (Harry Potter) is one of the rare occasions when you have a fantastically creative part."
Evanna Lynch, commenting on getting to take part in events at the Wizarding World: "For us it's almost more exciting because we really get to have fun and hang out more, whereas premieres are so big and busy."
Producer David Heyman speaking to his feelings on working with the Harry Potter film series: For me, I just feel privileged [to be part of this]. This is a place where people felt safe to push the boundaries and where we grew together to become a family.
George Harris, then comments: Yates, Baron and Heyman gave me the chance to be part of the biggest movies in the world¦ it's like winning the bingo. It's an exciting day going to work to go with my mates. It's a dream to this boy from the Caribbean.
Nick Moran to Jason Isaacs on his favorite moment from filming: "Watching you put that beautiful blonde wig on."
Isaacs, speaking again to the Potter series: "I think I understand more than them what an anomaly this is… [Harry Potter] was an island of something entirely magical and positive. We all felt we were in service of this magical, fantastical, intangible world, we all felt like we were privileged to go work there."
Evanna Lynch, speaking about what it feels like to play a role like Luna: "Gratitude is such a big thing that I will take away from it. I feel so grateful that they let me in [form the fan world]."
David Bradley talking about what he'll always remember:" Watching the young actors grow… I don't know how you can tell when you meet a 10 year old kid that they can carry something until they're 20… there was a great bit of intuition there."
David Heyman: "We are working with talented people who are ambitious for their craft. We never viewed [the Harry Potter films] as a franchise, it's a film and what we're trying to do each time is make the best film we can. It was really a place where people really pushed each other to do better than last tine. Our crew, directors never settled. And to give WB credit, they gave us the support to make the films that we wanted to make."
Evanna, talking about her character, Luna: "I never really expected people would see me as Luna, and see [her strengths] through me. I'm not perfect the way Luna is, I have many more weakness than she has. But she inspires me to be better and if someone comes up to see me that way, I am motivated to [live up to that]. Luna is not very outgoing but she has this great inner strength and that inspires me. I am proud and privileged to portray a character like Luna."
Nick Moran favorite moment to film: Scene when his character could smell but not see Emma Waton's character in the forest.
David Bradley's audition memories: Doing a run though of his audition scene, when Filtch takes the Trio and Malfoy into the forest, in his back garden with his young daughter.
Jason Isaacs, the reason why he asked for a cane: so he could wrap Draco on the hand in CoS.
Evanna, scene that didn't make it into the film: Really sad the scene where Luna commentated the Quidditch game. Scene was originally in the script, but got cut.
Harris: Responsibility people put on you as the character, so they think of you as a big commander when they see you in person.
Heyman, secret to making HP films being so majestic: "Jo Rowling. They key is Jo. Without her there would be none of this. I read HP before it was published, so I had no idea. Thought it would be moderate British film, if I was lucky. First step was hiring Steve Kloves. The key is capturing Jo's voice in the film. The thing that I'm most proud of was the environment was without ego [from anyone]."
Bradley, jokingly describes what he'll do next: "I'm available for pantomime."
Phelps Twins: Scheduled to film a pilot for a US TV show, sometime early next year.
Evanna: "I might just spend my life touring promoting Harry Potter, (laughs) but I just moved to here and am finding my feet."
Heyman on glossing over character deaths: "It's very hard to make a death of a bird¦ in the air… (mimes reaching for something falling away from him) Hedddwwwiggg!"
Heyman, commenting on the death of Fred: "What we felt was the real power in that was seeing Ron's reaction to [the death]."
Moran's "Ah-ha" moment: Getting out of the car and seeing the full invasion forth [of the crew on set].
Bradley's "Ah-ha" moment: Meeting fans who say "it's just like how I imagined it."
Oliver's Ah-ha" moment: Having to go to set shielded by umbrellas in order to walk to set.
James' Ah-ha" moment: Meeting a woman while swimming who asked if he was in Harry Potter.
Isaacs' Ah-ha" moment: WB paying for gourmet hamburgers during the CoS film premiere.
Evanna's Ah-ha" moment: Walking around London and seeing a sticker of herself on the pavement.
Saturday evening there will be a red carpet event at the Wizarding World to mark this celebration. Leaky will be one the scene, so stay close for the latest!