Leaky's Harry Potter Home Entertainment Celebration Red Carpet Interviews Now Online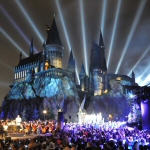 Nov 13, 2011
Leaky's interviews with cast members and filmmakers from the Harry Potter film series from the red carpet for WB's Harry Potter Home Entertainment Celebration are now online and can be viewed via this link, or below:
PART ONE: Devon Murray (Seamus Finnigan), Nick Moran (Scabior), George Harris (Kingsley), David Bradley (Filtch), Rupert Grint (Ron) and Executive Producer David Baron.
PART TWO: Director David Yates, Executive Producer David Heyman, Stanislav Ianevski (Viktor Krum), James and Oliver Phelps (Fred and George Weasley), Jason Isaacs (Lucius Malfoy), and Evanna Lynch (Luna Lovegood)
In these interviews, we get to hear from a number of the cast members about their impressions of the Wizarding World and of how they are feeling now that one of the last big milestones in the Harry Potter films series, the final film's DVD release, is upon them. We also speak with a few of the filmmakers, who discuss how they feel wrapping up the last eleven years of their lives and dish a little on what we might be able to see on a future Ultimate 8 Film Boxed Set.
The "Harry Potter and the Deathly Hallows: Part 2″ DVD/Blu-ray is available in stores and online in the States now.
Enjoy!