Contest for a U.K. School to Win a Q&A and Visit from Rupert Grint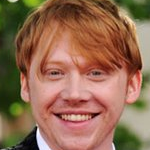 Nov 15, 2011
To promote the release of the Blu-ray/DVD of "Deathly Hallows: Part 2″ in the U.K. on Dec. 2, Sainsbury is hosting a contest for a secondary school to win a visit from Ron Weasley actor Rupert Grint.
Grint will visit the winning school to distribute copies of the final Harry Potter Blu-ray and take part in a Q&A session.
To nominate a secondary school for the prize, fill out the form on this page by Nov. 28.