Updated: ShirtPunch to Sell Shirt Designed by Warwick Davis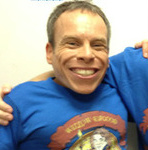 Nov 19, 2011
Posted by Mel
ShirtPunch, which sells one unique shirt for 24 hours only, will be selling a shirt designed by Warwick Davis (Flitwick/Griphook) on Monday, November 21st. ShirtPunch teamed up with Mr. Davis to design this shirt, which features a design from "Willow," a film Mr. Davis starred in. Even better, all proceeds from the shirt will go to Make-A-Wish International:
We approached Warwick a few months ago and he agreed to jump on
bored and design a tee. The shirt itself is based off his character
Willow from the movie with the same name.
Last week Warwick went to Universal Studios Orlando to be a part of
the DVD release for Harry Potter. They had a ton of cast members
turn out, there were press conferences, interviews, the whole works;
and everyone started getting excited about his shirt (he happened to
be wearing it)…next thing you know we're shipping 20 shirts down
to him because the cast wants to help promote! With the proceeds
going to Make-A-Wish International, it's just a fantastic cause.
Rupert got REALLY excited and started going on and on about how much
he wanted to promote the shirt
The shirt will become available starting tonight at midnight EST. You can see Warwick Davis and Ricky Gervais, Mark Williams (Mr. Weasley), and Rupert Grint (Ron Weasley) with the shirt here in our galleries.