Video: Alan Rickman in "Seminar"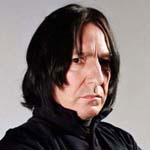 Nov 21, 2011
Thanks again to the efforts of Leaky reader WeenyOwl, we now have a video of Alan Rickman (Severus Snape) in his new Broadway play "Seminar":
Our favorite acid-tongued professor is back!… sort of. Alan Rickman
stars as an intimidating teacher in Theresa Rebeck's Broadway play, "Seminar,"
bringing back fond memories of his turn as another intimidating
teacher, Professor Snape. The play marks Rickman's return to Broadway —
his last role was in 2002's "Private Lives," which is currently undergoing a revival starring Kim Cattrall and Paul Gross. He's been keeping busy on the stage elsewhere, though, most recently starring in Henrik Ibsen's "John Gabriel Borkman" at the Brooklyn Academy of Music.
Readers should be advised that there is some language used in the clip that may be inappropriate for minors. You can watch the video here.