LeakyCon 2012 Registration Open!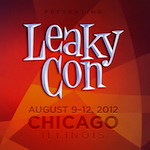 Nov 28, 2011
Registration for LeakyCon 2012, our next Harry Potter conference taking place August 9-12, 2012 in Chicago, Illinois, is now open to all and can be completed right here!
As a special for this Cyber Monday, regular registration is $180 for today ONLY. Act quick before registration goes to its full price of $200 on November 29th. This rate lasts through February 1, 2012. Rock Star registration is $400 and is your all access pass to everything LeakyCon and LeakyCon Lit. Full track information, including LeakyCon Lit, can be found here.
Our latest conference will be a long weekend of Harry Potter and literary-based fun, panels, games, music, sports, podcasts and so much more! Your favorite wizard rock, HP actors, Team StarKid, the Esther Earl Rockin' Charity Ball are all slated be there, so don't delay in getting your spot at the conference as registrations are sure to go quickly.
Registration is open to all aged 13 and older, but if you are aged 13, 14 or 15 by the time the conference begins, you will have to have a chaperone at the conference; if that chaperone (over 21) is not your legal guardian, you will need to download and have signed and notarized our permission form, and bring it with you to the conference for presentation with your chaperone.
New for this year, if you are aged 16 or 17 by the time of the conference, you just have to download the form and have it signed by a parent or legal guardian, and have it notarized so we know it's legit. Then you don't need to have a chaperone.
Please read ALL of our FAQs on this page and be sure to let your parent/guardian read too. All forms will be available shortly.
Do not delay in getting your spot at LeakyCon 2012! Stay close to this site and LeakyCon.com for all the latest.
See you there!