David Yates, Helena Bonham Carter and Producers Attend "Deathly Hallows: Part 2″ Screening and Q&A in Hollywood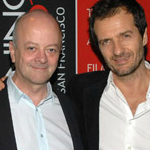 Nov 30, 2011
On Tuesday night, Variety hosted a screening of "Harry Potter and the Deathly Hallows – Part 2″ in Los Angeles as part of a campaign to build Oscar buzz for the final film in the series. Present at the screening were producers David Heyman and David Barron, along with director David Yates and actress Helena Bonham Carter (Bellatrix Lestrange).
Hypable has published some highlights from the Q&A, which you can read below.
Heyman on deciding where to split "Deathly Hallows:"

Initially we were nervous about ending Part 1 with
Dobby's death. Because the previous three films had ended with a
death, and we thought, "Oh my gosh, this is a repetitive structure, we
don't want to do this again." So we actually shifted [the split] to the
arrival at Malfoy Manor. With Harry's hair being pulled back, and you
see the scar, and ending it on a cliffhanger. But during the editing
process is became very clear that you needed some closure. And also, if
we had set up Dobby in the beginning of Part 1 and then his death
happened halfway or a third of a way through Part 2, we felt that
wouldn't be emotionally satisfying. So David [Yates] ultimately made
the decision.
Yates explaining why they moved the Harry/Voldemort final battle outside:

In the book Voldemort confronts Harry in the Great
Hall. They're together and surrounded by children. And, because we
waited so long for this final confrontation it felt more primal and
spectacular to have them alone up in the ramparts of the castle. I love
this notion of Harry pulling Voldemort off this high point and then
conjoining in this weird and wonderful way. Because they're sort of
twins in this series of stories. And I just felt the image of them two
separately in that courtyard was more iconic. And in the book, the book
was terrific, but tonally it was slightly different than what we wanted
to do. We went a bit earthier and a bit more grown up. Whereas in the
book it's slightly ' it reads slightly younger. And Voldemort's
undermined before he's ultimately dispatched. And so we tried to avoid
that. Working with Steve [Kloves] with came up with our alternative,
which felt more spectacular as well. Whizzing around Hogwarts.
Together. Trying to pull each other apart. I felt that would be a more
cinematic expression of what Jo started.
Bonham Carter talks about a dueling scene with Gary Oldman (Sirius Black) that was cut and stealing items from the set:

Helena Bonham Carter: I always shoot
incredibly long sequences for Potter, and 5% is preserved. [laughter]
Me and Julie ' we did that fight. But it was much longer. We had so
many moves. In fact, I had a really huge fight with Gary Oldman [in
Order of the Phoenix] ' do you remember that?

David Heyman: Are you saying your best stuff is on the cutting room floor?

Carter:
Absolutely! Well not my best stuff, but a lot of stuff. I trust I'm
in the hands of " but anyway. Me and Julia, we actually threw our backs
out. Because it's quite strenuous doing all the wand stuff. I died
that day. I've died so many times in films. You usually die in the
middle of shooting a film, or in the beginning. But this time I
actually finished ' it was on my last day of shooting. They killed me.
And then they went, "¦Bye!" [laughter] I kept my teeth. They
wouldn't fit anyone else. I got them at home. I've got my wand. But
not THE wand. That's part of what I loved about the whole Harry Potter
experience ' it was completely surreal. And I loved every minute of it.
But every time I was on set, at the end they'd say, "Give us back your
wand." I'm an unconscious kleptomaniac, I take everything. [laughter]
But they'd always take your wand and put it under lock and key. And I
thought, "Don't they realize they don't work?" You know. [laughter]
The wand I've got, it's not my wand.

I've got a few posters
actually [from the set]. They don't know about that. The thing is '
you go into the art department of any film and they sort of ' you know '
you can get a few things on the side. [laughter]
Yates answers an audience member's question: "How did the films get so good?"

Jo's stories go darker as they progress. So we were just following the
trail that she laid down for us fundamentally. It's a funny thing
because people react differently. Some people loved the first two
movies in the series. Some people think the third one is brilliant.
There's a very different response to each of the movies and everyone has
their favorites. I think our advantage with the final story is there
are a lot of people who invested a lot of time in these characters and
journey. So bringing it to a conclusion and a climax for an audience
that has grown up with the stories, grown up with the characters, grown
up with the actors means they're as invested as we are as storytellers
in this world. It creates a certain alchemy in the theater as we sit
down together and watch the film.