It's that time of year! Jingle Spells Five!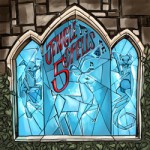 Nov 30, 2011
Hurrah! Leaky's fifth wizard rock holiday album, JINGLE SPELLS 5, is here! And we've got a couple of great deals to celebrate!

First, every purchase of a disc also gets you a digital download so that you can start listening to your music right now.
Go here to get your holiday music!
Second, we are trying to empty out some of our stock. We overordered Jingle Spells 3 two years ago and so are having a big ol' fire sale on it. It costs THREE DOLLARS plus S&H. That's what happens when we're trying to clear storage space. 🙂 And it includes a digital download!
Third, all the other albums are available for digital download here, cheaper than they are on iTunes. And we are selling here, exclusively, a five-album digital collection for $30. That's about half off if you were to get them all on iTunes.
Go here to get your holiday music!
As with all years we are only shipping a small number (a few hundred) of these limited-edition physical copies, so get ordering! We are sending the items out ONE time, in mid-December – after that physical orders will be halted until the next time we plan a shipment. We cannot guarantee that international orders will arrive in time for Christmas, but hope the digital download is a good salve.
And without any further ado here are your previews of Jingle Spells 5! We have such a great lineup thanks to our Great(er) Jingle Spells contest, and are so excited to share this with you!
All proceeds benefit the HP Alliance!

"Accio Christmas," Accio Lumos,



"Hagrid Drank All My Eggnog," Justin Finch-Fletchley and the Sugar Quills



"Snape's Holiday Blues," Solitary Snape



"Wizard Chess at Christmas," Love Wrocks



"When 13 Dine," The Pumpkin Pasties



"Happy Birthday Tom," Undesirable #1



"Full Moon Christmas," The Crookshank Redemption



"Godric's Hollow," Shon Rand



"Jingle Spells," The Giant Squidstravaganza



"My Chrissstmasss Wisssh Lissst," Awkward Voldemort



"Unsent," Lav²



"Hermione's Christmas Mistake," Seen and Unforseen



"Livin' in a Mirror," Harry and the Potters


"Christmas Holiday Partyin'," Pickles4Muggles


"I've Got Presents!" Heart of Black



"Molly's Carol," The Veelas



"This Christmas," Tonks & the Aurors


"Home for the Holidays," Stephanie & the Quaffles



"Good Haul This Year," Humphrey Belcher and the Chocolate Cauldrons



"Imperio Father Christmas," Mulciber Zerstörer


Go here to get your holiday music!
This year we thank, as always, the awesome Paul DeGeorge, Frank Franco and Jordan Edwards and, making his first appearance on the Jingle Spells Production Team… The Wrock Snob. Thank you guys for all the work!