Report: Second Harry Potter Theme Park Slated for Universal Studios Hollywood (Updated)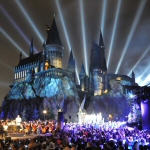 Nov 30, 2011
The Wall Street Journal has just issued a report that the Universal Studios Hollywood will be the site of a second Wizarding World of Harry Potter type theme park in the coming years. The article sites persons familiar with the plans and says an official announcement is due next week. They report:
NBCUniversal is planning to expand its Los Angeles theme park with a section devoted to the "Harry Potter" franchise, according to people familiar with the matter, hoping to repeat the success of a similar attraction at NBCU's Orlando, Fla., resort.
The new "Harry Potter" addition in the Los Angeles park, Universal Studios Hollywood, will likely resemble the one in Florida, these people say, which includes a Hogwarts Castle, roller coasters, and several Potter-themed restaurants including the Hog's Head tavern, which serves butterbeer, as in the books.
The WSJ goes on to make mention of the fact that if this second park does come to Hollywood, this might open the door for the other Universal Parks to look into adopting the Harry Potter theme park model as well.
While this is indeed exciting news, we have yet to receive official confirmation on expansion plans but we are working to confirm the news to you. Developing…
Update: Thanks to the ever awesome Jamie, we now know of a report from the LA Times which reports that the contract securing the deal is about to be signed, and "new attraction is expected to open at Universal Studios Hollywood no earlier than 2015."