David Yates Receives BAFTA Brittania Award, Talks Future "Doctor Who" Project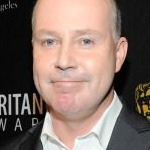 Dec 01, 2011
Director David Yates was presented with the John Schelsinger Britannia Award for Excellence in Directing on Wednesday night at the Los Angeles BAFTA ceremony. According to the Telegraph, a surprise video message to Yates from Daniel Radcliffe, Rupert Grint and Emma Watson was played for the director.
Helena Bonham Carter (Bellatrix Lestrange) also won the award for British Artist of the Year. The 2011 Brittania Awards will air Dec. 4 on the TV Guide Network at 8:30 p.m. EST.
The Los Angeles Times recently sat down with Yates to discuss his career post-Potter. During the interview, Yates joked about forming a group with the abbreviation HPA…for Harry Potter Anonymous:

"I'm recovering from six and half years of incredibly intense schedules
and expectations. I have post-Hogwarts Syndrome. We were joking last
night that we were going to form HPA, Harry Potter Anonymous ¦. Helena
Bonham Carter and [franchise producer] David Heyman, Jo Rowling, all of
us will have yearly meetings and stand up.

˜Hello my name is David, I was a ˜Potter' director ¦.˜
We need some sort of therapy together. How do I feel? I feel proud of
the work and I feel glad that it's behind me now, the weight of it and
the responsibility of it. I'm looking forward to the next thing."
Yates is attached to a film version of the popular British TV series "Doctor Who," but says that the film is still several years away. In the meantime, he hopes to be back in the director's chair by the spring. The complete interview can be read at this link.