"The Scorpio Races" by Maggie Stiefvater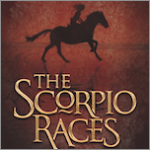 Dec 11, 2011
Be sure to catch THE SCORPIO RACES, the book that Seventeen.com called "A wonderful combination of Harry Potter and The Hunger Games that you won't ever want to end."
Written by bestselling author Maggie Stiefvater of SHIVER and FOREVER, THE SCORPIO RACES tells the magical adventure of the most dangerous race in the world where both love and life meet their greatest obstacles, and only the strong of heart can survive.
Entertainment Weekly raves: "In the impossibly thrilling…beautifully executed drama, Stiefvater has established herself as one of the finest YA novelists writing today."
And The New York Times Book Review declares: "Stiefvater, most recognized for her Shiver werewolf romances, not only steps out of the young adult fantasy box with The Scorpio Races but crushes it with pounding hooves… if The Scorpio Races sounds like nothing you've ever read, that's because it is… [Stiefvater has] written a complex literary thriller that pumps new blood into a genre suffering from post-Twilight burnout."
Don't miss this must-read for Muggles everywhere! Make sure to watch the super cool trailer that Maggie created the art and music for by clicking here!
This is a sponsored post.