Read Into The Wild with Jo's Book Nook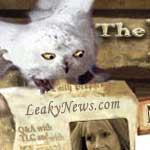 Apr 06, 2011
For the month of April, Jo's Book Nook, our non-Harry Potter book club, is reading Into the Wild by Jon Krakauer. The book is a biographical work about Chris McCandless, a young man who in 1992 set off to
explore Alaska and whose emaciated body was found four months later.
What led him to abandon his family, friends, possessions and
civilisation for a life on the road? Take part in the discussion at this link.
Happy reading!