New Books for Harry Potter Book Club, Jo's Book Nook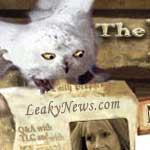 May 11, 2011
Our book clubs at the Leaky Lounge have picked some brand new books to read and discuss this May. The Harry Potter Book Club is reading Harry Potter and the Deathly Hallows. Brush up on the last book in the series before the film comes out here at the Leaky Lounge.
Our non-Harry Potter book club, Jo's Book Nook, is reading The Hound of the Baskervilles by Sir Arthur Conan Doyle. Get in touch with your inner detective right here in the Leaky Lounge.
The
forums for both book clubs are full of polls, quizzes and interesting
discussion topics for MyLeaky members to enjoy.
Happy reading!