Pottermore Announcement: Details on J. K. Rowling's Next Harry Potter Project; Video, Pictures, Press Conference Quotes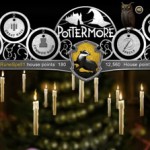 Jun 23, 2011
Update: J. K. Rowling's Pottermore announcement video released: WATCH HERE or below. Pottermore screenshots and publicity photos here. Info as we get it:
Pottermore is an interactive new Web site and reading experience with more than 18,000 new words from J.K. Rowling: Much more to come.
An online experience to read, interact with and share the Harry Potter stories. Exclusive writing from J.K. Rowling and more.
Pottermore will feature infromation J.K. Rowling has been "hoarding" for years about Harry Potter.
Pottermore will be the exclusive place to purchase the digital audio books and, at last, eBooks of the Harry Potter series.
Pottermore was developed in association with the leading digital company, @th_nktweets
Pottermore was also created in partnership with @sony!
One million fans will get access to a beta on July 31, Harry's birthday. It will be open for all in October 2011.
The launch of Pottermore will have more than 18,000 words from J.K. Rowling, but that is only a third of what she has written so far.
J.K. Rowling said this morning that there is a lot more content to come for the Pottermore site, and she will develop it as it grows.
This morning J.K. Rowling said that she and Harry have a "casual relationship," instead of the serious kind they once had.
"I've never cried over a man as much as I've cried over Harry." – JKR
The idea came from a conv. with her agent about how to help Harry live on in today's digital age.
JKR downloaded eBooks for the 1st time this year and loved it – "a thousand books in your pocket" – tho she loves paper.
You will follow the story, get sorted into a house and get a wand (one of 33,000 possible combinations) – all crafted by JKR.
JKR is excited to include a long backstory on McGonagall – her childhood, ministry career, early heartbreak…
A lot of the Pottermore team is Hufflepuff, which JKR said is what "you want in a team – they're workers!"
JKR said if you're not sorted into Gryffindor you get even more exclusive content about your house.

Chamber of Secrets story to debut in 2012.

Also shown this morning, there will be info on Minerva McGonagall's long friendship with Dumbledore
A lot of the Pottermore team is Hufflepuff, which JKR said is what "you want in a team – they're workers!"
A physical encyclopedia may come one day, JKR said, but she is not positive.
Also mentioned that Vernon ad Petunia met at work, backstory also on Pottermore.
JKR on Pottermore: "I've worked with the most incredible team at TH_NK to make it come alive."
Update 2: Scholastic, the US publishers of the Harry Potter books, has issued a press release, they say:
Scholastic is proud to be a key partner in the Pottermore project, including connecting teachers and parents from our school and online channels directly to ebook sales via Pottermore and providing marketing and promotion support. We're excited about the new content from J.K. Rowling to go along with the books. This will surely inspire more interest in the series and bring a whole new generation of readers to Harry Potter. We're pleased to support Pottermore because we know the power of the Harry Potter books to turn kids into lifelong readers, and we believe every child should experience Harry Potter ' whether in ebooks or in print. In addition, Scholastic will receive a royalty on sales of the U.S. editions of the ebooks.
Update 3: JKRowling.com, the author's official website, has been updated to note the announcement of Pottermore. The update, posted in the News section, reads:
You may have recently noticed a number of owls on various websites leading you to a YouTube film, where I have announced my latest, exciting piece of news.
POTTERMORE is a new web site, where you can enjoy an online experience based around the Harry Potter books, which includes exclusive new information from me. If you would like to see the announcement film please click here.
Whilst you'll hear more from me on pottermore.com at the moment, jkrowling.com remains my own personal website for various content such as updated biography and bibliography, and links to relevant organisations, including the charities I support.
The AP was on hand at the press conference this morning. Photos can be seen here.
The owls continue to gather as the countdown ticks closer to the release of Harry Potter author J. K. Rowling's anticipated announcement on Pottermore, her latest Harry Potter project. As we reported yesterday, press conference is said to be set for Victoria and Albert Museum this afternoon (UK time) regarding Ms. Rowling's announcement. Leaky will have up to the minute updates on Pottermore so stay close!
Full press release below:
J.K. Rowling today, Thursday 23rd June, answered mounting speculation about the nature of her new project and announced Pottermore, a unique and free-to-use website which builds an exciting online experience around the reading of her hugely successful Harry Potter books, and is partnered by Sony.
The announcement today was heralded by the revealing of the website's name via an online search for its letters, and a ˜coming soon' holding page which received over a million visits within 36 hours of launching.
For this groundbreaking collaborative project, J.K. Rowling has written extensive new material about the characters, places and objects in the much-loved stories, which will inform, inspire and entertain readers as they journey through the storylines of the books. Pottermore will later incorporate an online shop where people can purchase exclusively the long-awaited Harry Potter eBooks, in partnership with J.K. Rowling's publishers worldwide, and is ultimately intended to become an online reading experience, extending the relevance of Harry Potter to new generations of readers, while still appealing to existing fans. As the Pottermore Shop develops, it is intended that it should include further products designed specifically for Harry Potter fans, offering a potential outlet for Sony products and services related to Pottermore. In keeping with Harry Potter's international appeal, the site will launch in English, French, Italian, German and Spanish, with more languages to follow.
In the new website, the storyline will be brought to life with sumptuous newly-commissioned illustrations and interactive ˜Moments' through which you can navigate, starting with the first book, Harry Potter and the Philosopher's (Sorcerer's) Stone. On entering, you choose a magic username and begin your experience. As you move through the chapters, you can read and share exclusive writing from J.K. Rowling, and, just as Harry joins Hogwarts, so can you. You visit Diagon Alley, get sorted into a house, cast spells and mix potions to help your house compete for the House Cup.
At a press conference at the Victoria & Albert Museum in London, Rowling revealed some key features of the website. In an announcement which will thrill fans, she described how she has brought to life both the Sorting Hat and Ollivanders experiences from her books for the first time on Pottermore, by revealing the questions asked by the Sorting Hat – which places newcomers into their Hogwarts houses according to their characteristics – and the magic behind the Wand Chooser ' which finds the right wand for each user from over 33,000 possible combinations. She also revealed glimpses of the new information she has provided on some of the best-loved characters.
J.K. Rowling's announcement on YouTube and sony.com today revealed that Pottermore (along with the Pottermore Shop) will be open to all users in October 2011. From today, 23rd June, fans can submit their email addresses on Pottermore.com in order to be contacted by the site following the opening of registration on 31st July, Harry's birthday. Also on that date, an online challenge will be launched, whereby the first million people to complete their registration will gain early entry into the website, and help put final touches to the experience.
J.K. Rowling commented,
"I wanted to give something back to the fans that have followed Harry so devotedly over the years, and to bring the stories to a new digital generation. I hope fans and those new to Harry will have as much fun helping to shape Pottermore as I have. Just as I have contributed to the website, everyone else will be able to join in by submitting their own comments, drawings and other content in a safe and friendly environment ' Pottermore has been designed as a place to share the stories with your friends as you journey through the site."
Pottermore has been made possible with the support and partnership of Sony.
Sir Howard Stringer, Chairman, Chief Executive Officer and President of Sony Corporation, commented:
"Sony's association with J.K. Rowling's Pottermore brings together one of the world's most innovative brands with the most successful book series in history, in a pioneering partnership that will help shape the future of story-telling. We are proud to be a part of it, both at this momentous announcement, and as we collaborate on its development over the coming years."
On Sony's partnership of Pottermore, J.K. Rowling commented:
"As I think people know, I am very protective of Harry and have always been very selective with any new initiatives, but I am totally committed to making this partnership with Sony and this wonderful new website a success. There are many companies I could have worked with on this ultimate digital expression of Harry Potter's universe, but it is Sony's unique philosophy of creativity in harmony with technology that made them my first choice as main partner. The spirit behind Sony's make.believe philosophy is one that rings true with Pottermore's own values."
The detailed creative execution has been led by TH_NK, a leading UK digital agency, under the supervision of J.K. Rowling and the Pottermore management team, in co-operation with Sony. J.K. Rowling's publishers, Bloomsbury in the UK and Scholastic in the USA, as well as her international publishers worldwide, have been active supporters in the creation of pottermore.com and the Pottermore Shop. Warner Bros, the makers of the hugely successful Harry Potter film franchise, is also one of the partners who have worked to support the launch of Pottermore through a variety of marketing, promotional and other efforts, and will continue to collaborate as the project grows.
The storyline of the second book, Harry Potter and the Chamber of Secrets, will go live on the site in early 2012. The Pottermore Shop opens when the site opens to all in October, selling complete ranges of the eBooks and digital audiobooks in a selection of languages, exclusively.
Designed for fans of all ages, the website has been created with child safety in mind, employing best practice and compliance with internet codes of practice in the UK, Europe and USA, and elsewhere.