Dan Radcliffe, Rupert Grint, Emma Watson, and Tom Felton Discuss What Careers They Might Have Had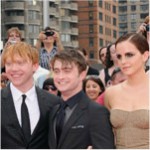 Jul 14, 2011
In a new article, Dan Radcliffe (Harry Potter), Rupert Grint (Ron Weasley), Emma Watson (Hermione Granger), and Tom Felton (Draco Malfoy) talk about what jobs they might have taken if they hadn't been cast in the Harry Potter films. All four of them think they would have been drawn to the arts no matter what happened in their lives:
In some fantasy world, Daniel Radcliffe might be a low-level go-fer on
movie sets. Emma Watson might be a nobody auditioning for stage plays.
Tom Felton might be noodling around as a musician.
You can read the rest of the article here.