Video: Tom Felton on Late Show with David Letterman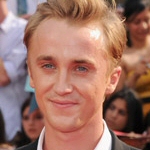 Jul 14, 2011
Actor Tom Felton (Draco Malfoy) made a brief appearance on the Late Show with David Letterman Tuesday night to promote the final Harry Potter film. Felton was joined on the Letterman stage with American TV host Regis Philbin and spoke about some of his future plans post-Potter.
A video of Felton's appearance can be seen via this link in which he also presents a new clip from "Deathly Hallows: Part 2″ featuring Draco and Harry in the Room of Requirement.
"Deathly Hallows: Part 2″ will be released in U.K. and U.S. theaters tomorrow, July 15!