Tom Felton Attends Fan Meet-and-Greets in Chicago, Throws First Pitch at Wrigley Field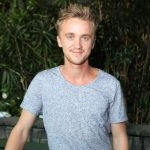 Jul 25, 2011
Actor Tom Felton (Draco Malfoy) made several appearances in the Chicago area over the weekend to continue promoting "Harry Potter and the Deathly Hallows: Part 2."
On July 22 and 24, Mr. Felton was at the Hollywood Blvd. Theater in Woodbridge and at the Hollywood Palms on July 23 to sign autographs and take photos with fans. Photos from the two events can be seen here, courtesy of Feltbeats.
An interview with the Draco Malfoy actor was also published in a local newspaper, in which he talks about filming Harry Potter and maybe one day reuniting with co-star Daniel Radcliffe (Harry Potter) on another film:

When asked if he'd like the tables turned and act in a film with
Daniel Radcliffe as the villain and himself as the good guy, his face
lit up and he exuberantly replied, "Oh, yes!" He then began to
elaborate.

"Daniel and I have commented to each other that we probably won't get
another chance to work in another movie together but if we do, he'd be
the bad guy and I'd be the good one."
Mr. Felton was also invited to throw the first pitch at the Cubs-Astros game at Wrigley Field on Friday evening. You can seen how well he did in this video.