Daniel Radcliffe Interviews with ShortList, IFC, NYLON, and Elvis Duran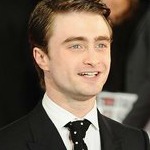 Feb 01, 2012
The Daniel Radcliffe interviews keep pouring in! Today we have a great interview and photoshoot with ShortList (see the video taken during the photoshoot here) where Radcliffe discusses his professionalism, what he was like when he used to drink, and a little bit about Harry Potter. Do be forewarned, there is some strong language in the interview.
And from IFC, a really cool video where Radcliffe does a commentary of "The Woman in Black" trailer. You can watch that here or below.
Radcliffe's interview with NYLON covers a broad spectrum of topics from what "The Woman in Black" is all about to Radcliffe's favorite music to what he does on his days off. Again, be forewarned, there is a smattering of strong language.
Finally, we have video interview Radcliffe did with Elvis Duran and the Morning Show, which can be seen here.
Thanks to everyone who emailed!
~*~
Special announcement: Leaky is looking for news editors! If you have what it takes, email us at news [at] the-leaky-cauldron [dot] org.