Rumor: Emma Watson and David Yates to Reunite for "Your Voice in My Head"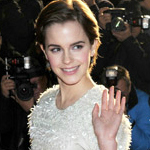 Feb 02, 2012
Deadline is reporting that director David Yates is looking to star Emma Watson in his upcoming film "Your Voice in My Head":
Warner Bros is negotiating to acquire Your Voice in My Head, the Emma Forrest-scripted drama based on the scribe's memoir that is
expected to be the next film by director David Yates. The film is
shaping up to be a Harry Potter reunion. Yates is in
discussions with Emma Watson to star in the role of a young woman who
attempts suicide before being saved by a New York-based psychiatrist
who's dying of cancer.
Right now this news is unconfirmed and should be treated as a rumor.
~*~
Special announcement: Leaky is looking for news editors! If you have what it takes, email us at news [at] the-leaky-cauldron [dot] org.