New Image of Bonnie Wright and David Thewlis in "Separate We Come, Separate We Go"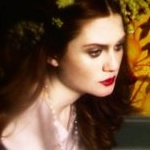 Feb 26, 2012
We have a new behind the scenes image of Bonnie Wright and David Thewlis (Remus Lupin) in their upcoming short film "Separate We Come, Separate We Go." The film will be part of the LCC Graduate Film project and is being directed by Wright. You can see the image here in our galleries and read more about the film here.
In addition, Leaky would like to wish Bonnie Wright a belated happy birthday! Ms. Wright turned 21 a little over a week ago.
Many thanks to Nancy!