IQA Releases Special Hunger Games District 9 3/4 T-Shirt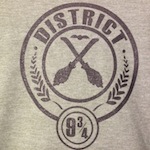 Mar 14, 2012
Our friends at the IQA, International Quidditch Association, have designed and released a special T-Shirt to add a bit of the Harry Potter style for the upcoming "Hunger Games" film release. Available in both men's and women's sizes, the T-Shirt is made out of deep heather green soft-style cotton and features a combination of the snitch above crossed broomsticks with a touch of Mockingjay pin essence for Hunger Games fans as well. By purchasing this shirt for $19.99, you will be supporting the IQA and its future Quidditch organizing activities as a 501c(3) non-profit.
If you order before 7am EST Friday, March 16th and get your shirt before the film's Friday, March 23rd release.
Check back in the coming days for something special from the IQA and Leaky!