First Look at Emma Watson in "The Bling Ring"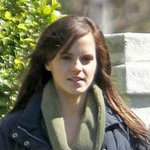 Mar 21, 2012
Not so long after getting our first look at Dan Radcliffe as Allen Ginsberg in "Kill Your Darlings," we get our first look at Emma Watson in her new movie, "The Bling Ring":
Inspired by real life events, "The Bling Ring"
tells the story of a group of teenagers, also known as the 'Hollywood
Hills Burglar Bunch,' who were caught robbing celebrity homes of stars
such as Paris Hilton, Audrina Patridge, Rachel Bilson, and Lindsay
Lohan.
class="field field-type-text field-field-extended-text">class="field-items">class="field-item odd">
Along with shooting material in Calabasas, production will also be
taking place largely in Los Angeles, along with a few days in Las Vegas
next month.
You can see Watson on set sporting new hair extensions here in our galleries and you can read more of the article here.
Many thanks to Dana and Max for the tip!