Harry Potter Alliance Featured in the New York Times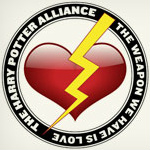 Mar 21, 2012
The Harry Potter Alliance is currently being featured in an article in the New York Times. The article discusses HPA's "Hunger is Not a Game" campaign, as well as some of their past work:
Perhaps the most effective practitioner of fan-fueled social change is Andrew Slack, the 32-year-old founder of The Harry Potter Alliance and the force behind Imagine Better. Since Slack, who started out as a
comedian, founded the Harry Potter Alliance, he has motivated
Potterphiles to send five cargo planes with $123,000 worth of relief
supplies to Haiti after the 2010 earthquake, donate more than 88,000
books across the world, raise awareness about net neutrality and
genocide and make forays into politics " taking on Maine's 2009 ballot
initiative that sought to repeal same sex marriage.

The Maine campaign, called "Wrock 4 Equality' featured a "wizard
rock" concert followed by a day where local fans canvassed while those
watching via livestream phone banked. The lobbying day was cast as a
"House Cup Competition' in Harry Potter parlance, where participants
could earn points for their preferred House at Hogwarts. The group made
over 3,500 cold calls in one day.

The Harry Potter Alliance has a
$175,000 annual operating budget, but they leverage it in big ways:
volunteers in over 90 chapters around the world have engaged an active
membership of about 100,000 within a larger network of 1 million. Slack
thinks of himself and his team as community organizers on the Internet:
"The Harry Potter online fandom is the community that we are organizing.
We've always gone to them."
You can read the rest of the article here, and once you finish you should spread the word! Email it, Tweet it, post it to Facebook – however you care to get the word out! The Imagine Better project is an important campaign and we should feel proud that it was born out of fandom.