"Deathly Hallows: Part 2," David Yates Win at Empire Awards 2012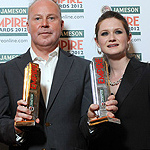 Mar 25, 2012
"Harry Potter and the Deathly Hallows: Part 2" won the top prize at the Jameson Empire Awards for Best Film. Director David Yates also picked up an award for Best Director for his work on the final "Harry Potter" film.
The ceremony in London was attended by several Potter cast members, including Matthew Lewis, Bonnie Wright and Evanna Lynch. Daniel Radcliffe, who is currently shooting "Kill Your Darlings" in New York, sent a video message thanking everyone for their votes. According to BBC Newsbeat:
Daniel Radcliffe was unable to attend the ceremony to receive the
Harry Potter prize, but left a video message, saying: "I've always been
quite a harsh judge of the series, but I was over the moon with this
final film; I think we went out on a high note."
Picking up the best director prize, Yates added: "Anyone
who's ever directed a movie like this knows that it's a huge great
family that helps bring these movies to fruition and makes them what
they are."
Gary Oldman (Sirius Black) also won Best Actor for his work in the film "Tinker Tailor Solider Spy." Photos from the event can be seen at Empire's website.