Video: Leaky's WB Studio Tour Red Carpet Coverage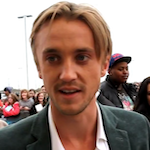 Apr 01, 2012
Leaky was on the red carpet at Leavesden Studios yesterday interviewing the cast and crew of the Harry Potter films about their favourite bits of the WB Studio Tour, the current projects they're working on and what they think the studio will do for the future of British filmmaking. The red carpet coverage is now online and can be found at the LeakyNews YouTube channel or embedded below.
Those interviewed include Tom Felton, Evanna Lynch, Bonnie Wright, Harry Melling, Alfonso Cuaron, Mike Newell, Nick Dudman, David Barron, David Heyman, George Harris and more. You can check out the video below, which also includes a clip of David Bradley (Argus Filch) talking about his upcoming role on Doctor Who and the ways in which it's different from playing Filch. Devin Lytle and Brian Rosenthal from Team StarKid were also there to tell us about their favourite parts of the WB Studio Tour.
.
Has this made you more excited for the studio tour and how hard will you be looking at the tables for the profanity Tom scratched in?!