Emma Watson's Talks Natural Beauty and Hair Cut in UK Glamour Magazine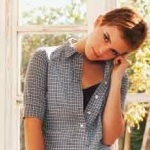 May 05, 2012
In the June 2012 edition of Glamour magazine, Emma Watson shares her views of natural beauty and informs readers why she cut her hair. Emma told Glamour cutting her Hermione locks "was all about getting rid of Harry Potter, and going dark was about mourning the end of Potter". Watson addressed the importance of natural beauty, and that it made her "sad" to see girls "hide themselves" under a lot of make-up. However she did admit that she had one weakness: lipstick. Emma gave tips on how to where lipstick and how she fell in love with it. "I was younger, I hated the idea of wearing
lipstick. Then, in the past two to three years, I've been wearing lots
of different colours – my favourite daytime shade is coral." Belfast Telegraph published segments of the article, including:
"I love the French – less is more look – there's something very
classy about it. It's so sad when people hide themselves behind too much
make-up."
Emma has revealed the secret behind her glowing complexion. The 22-year-old star has also shared her other top beauty trick.
"I
love having facials. I think it makes more of a difference to how I
feel than a full-body massage does. You feel so fresh and new. And
eyedrops¦ genius! The anti-redness ones are so good," she smiled.
You can read more excerpts of the article here or here. The full article on beauty can be found in the June 2012 edition of Glamour UK.