Alan Rickman to star in "The Butler"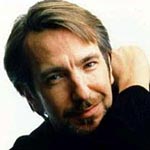 May 12, 2012
Alan Rickman is rumored to be casted as Ronald Reagan in the up and coming movie, The Butler. The Butler is still in the very early process of casting roles, with only two solid roles cast– including Jane Fonda as Nancy Reagan, Alan's would-be wife in the film. The movie will follow a maid and a butler as they become part of the White House staff, serving Presidents Lindon B. Johnson, Richard Nixon, and Ronald Reagan. The Washington Post reports:
Alan Rickman, the British actor perhaps
best known for his roles in "Die Hard" and the "Harry Potter"
films, has reportedly been cast as the 40th president of the United
States, according to items in The Hollywood Reporter and Vulture.
Yes, you read that correctly: Reagan may very well be played by
Severus Snape.