Alan Rickman to Play as Hilly Kristal in Biographical Film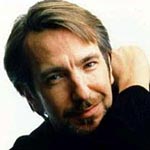 May 16, 2012
Alan Rickman has officially signed to play the role of Hilly Kristal in a new biographical film. Hilly Kristal was the founder of CBGB, a famous punk rock venue. The film currently has no title, and is set to begin production June 25, in Georgia and New York City. The film has an estimated release date of late 2013. Film makers are planing a special screening of the film to be ready by January 2013 for the Sundance Film Festival. The Telegraph reports:
class="secondPar" style="font-family: Arial;">
Rickman, who is best known for his roles in the Harry Potter films and Die
Hard, will play owner Hilly Kristal.
The film will tell the story of the venue's opening in 1973, how it was
originally intended to play country, bluegrass and blues music (hence the
name CBGB) and how it helped to launch the careers of countless punk rock
acts.
One of the producers and director of the film, Randall Miller , told the New York Times the film will be:
"[M]ostly about his journey' he said. "He's like a modern-day
salonist. It's not his métier, the whole atmosphere of punk, but he
became a supporter of the art."