Rupert Grint to star in "The Necessary Death Of Charlie Countryman"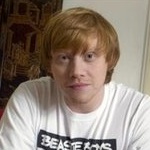 May 19, 2012
Rupert Grint has been listed in the cast of a new movie called The Necessay Death of Charlie Countryman. According to ScreenDaily Grint will be acting along side Trasnformers star, Shia LaBeouf. The movie has been in production in Berlin, and will be starting a portion of production in Romania May 21. Voltage Pictures, who will back the production of the movie, released a synopsis:
class="synopsis">
Charlie Countryman was just a normal guy…until he fell in love with the one girl who will probably get him killed. When Charlie meets the absolutely irresistible Gabi she's already been claimed by Nigel, an insanely violent crime boss with a gang of thugs at his disposal. Armed with little more than his wit and naïve charm, Charlie endures one bruising beat down after another to woo Gabi and keep her out of harm's way. Finally his exploits of blind valor create such a mess that he's left with only one way out; to save the girl of his dreams, must Charlie Countryman die?
There is no word yet on what Rupert Grint's role is in the movie.