Daniel Radcliffe Interviewed on the Set of "Kill Your Darlings"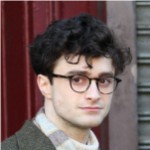 May 31, 2012
Daniel Radcliffe was interviewed on the set of his new movie, "Kill Your Darlings". In the interview with The Advocate, Daniel Radcliffe answered questions about his involvement in the Trevor Project, his latest movie projects in the supernatural genre, and why he chose to play the role of Allen Ginsberg in "Kill Your Darlings". You can read excerpts of the interview below:

">
The Advocate: The Woman in Black is the first film you
made since the Potter franchise ended. Did you have any hesitation
about making another movie within the horror-fantasy genre?
Daniel Radcliffe: I said to myself, if I rule out any
script that had remotely any fantasy element, I'd be cutting myself off from a
huge amount of amazing work.
There are so many films that could be deemed as having
heightened paranormal elements to them, which could just be magical realism or
a ghost story, which isn't really the same feeling as Potter. I decided not to
let that impinge on my decision-making.
What specifically
appealed to you about the film?
¨For me it was a chance
to do something that's genuinely different and that I thought people wouldn't
be expecting and that I wasn't expecting. If you'd said to me that the first
film I'd do after finishing the last Potter would be a horror film,
I wouldn't have believed you.
You mentioned the 1946 fantasy
A Matter of Life and Death. I'm impressed that you're so film-literate.¨
That's my favorite film.
There are gaps in my film knowledge. I've never seen Star Wars and
stuff like that. But A Matter of Life and Death I think is one of
the greatest showings of what imagination in cinema can do, with no visual
effects, really. It was a brilliant story and brilliantly acted. David Niven is
the most impossibly charming man in the world in that film and always. It's
just a brilliant film.
This is director John Krokidas's
first feature film. What convinced you to take this leap of faith with a novice
filmmaker?¨
You obviously haven't met
John. [Laughs] John is one of the most passionate people you could ever
meet. For me this is an exceptional script. The scenes were almost completely
devoid of exposition, yet the story was always being moved along and any
information being given out in those scenes is given as information about the
characters and not just handed out for the audience to understand. It's a
brilliantly written script. You meet John and he has such unwavering belief in
this project and he's enthusiastic and fun and I thought, Yes, I want to
dive in with you and make this happen.
Last year you received the Trevor Project's Hero Award. The
founder of Trevor Project said that you actually reached out to them to become
involved with the organization. Why was this important to you?
Finding out about Trevor Project through friends at that time
just seemed perfect. I wanted to be of service and help, and I'm just
incredibly proud that I'm able to. I do get people coming up to me and saying '
I'd say at least five or six times each week someone will come up to me and
say, "Thank you for what you do for the Trevor Project." It's amazing
that you're able to effect a positive change just by being you and talking
about things that you feel strongly about. I'm just very proud to be a part of
it.
The entire interview can be read here.