Celebrating Wizarding World's 2nd Anniversary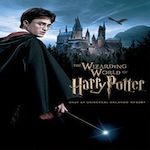 Jun 17, 2012
Monday, June 18, marks the second anniversary of The Wizarding World of Harry Potter! Universal Studios is celebrating with the promise of treats and discounted tickets. Orlando Fun Tickets wrote:
Bringing to life the wonder, excitement and adventures of the Harry Potter books and films, this spectacular world has captivated people from across the globe, ushering in thousands of fans on a daily basis to experience all things Harry Potter. And this Monday, as the attraction celebrates its 2-year anniversary, guests can expect even more Harry Potter magic at the park.

And as if all of that wasn't enough to make the Wizarding World of Harry Potter one of the best attractions ever, Universal Orlando recently confirmed a Harry Potter expansion is in the works, though details have not yet been revealed.
Stay tuned to Leaky for more of the celebration tomorrow!