Potted Potter Extends Off-Broadway Run Until September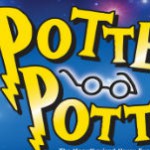 Jul 02, 2012
Potted Potter, the off-Broadway Harry Potter parody show, has extended its run at the Little Shubert Theatre until September 2, 2012, according to Broadway.com.
The show opened on June 3 and was originally scheduled to finish on August 12. Tickets can be purchased at this link.

In

Potted Potter, Daniel Clarkson and Jefferson Turner perform a retelling of all seven Harry Potter books in only 70 minutes, switching in and out of costumes, playing
multiple characters, performing songs and even playing a game of
Quidditch, complete with help from the audience.