Happy Birthday, J.K. Rowling and Harry Potter!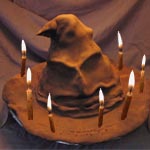 Jul 31, 2012
It's that day again, July 31, the day that changed so much for Harry and, as a result, for us. It's also J.K. Rowling's birthday! Our favorite authoress is celebrating her *cough*ieth fabulous year on this planet!
Every year at TLC we do some artwork to celebrate this day. We are a bit delayed this year owing to the intense planning going on for LeakyCon next week. So we bring you a blast from the past! Our first ever of this kind, done by Marta Tevies way back in the day. If you were reading Leaky then, thanks for being here after all this time!
Happy birthday to two of our very favorite people, fictional or not!