New York Times Interview with Emma Watson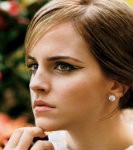 Aug 17, 2012
The New York Times has a new interview up with Emma Watson, which mainly discusses her transition from "Harry Potter" to other films. Among the topics discussed is Watson's American accent in her upcoming film "The Perks of Being a Wallflower":

She also manages the difficult feat " for a nice English middle-class girl " of sustaining an American accent. I told her how good it was and she thanked me nicely and explained how she's honed her vowels: "My grandma said " when I was really young and I'd sing along to the radio " why do you sing in an American accent? I guess it was because a lot of the music I was listening to had American vocalists. And that was something Steve said to me as well: try singing the lines in an American accent. That kind of opened me up. Then I worked with a dialogue coach and I just put in the time to really, really listen and just go over it and over it and over it until I could do it without thinking about it too hard. And I just knew it was really important."
Watson also discusses why she waited so long to get involved in non-Potter movie projects:

"I think at first I didn't because I was always either studying or filming, I didn't have time to go off and do other films or other things to sort of show people that, Oh, she is not just Hermione, she is an actress and she can go and do these other parts and roles. . . . I didn't, because I was so focused on, you know, on my GCSEs and on my AS and on my A-levels and then getting in to university and then whatever, I didn't really have time to do any of that." Meanwhile, her "Potter" co-stars, Daniel Radcliffe and Rupert Grint, had already begun to appear in other contexts before the franchise finished; Radcliffe most notably in a stage production of Peter Shaffer's "Equus' a distinctly challenging part that entails sturm, drang and full-frontal nudity. Watson considered the performance "incredibly brave, and I think people were impressed by his dedication and his work ethic."
Watson goes on to talk about her other upcoming projects, as well as confirming that "Beauty and the Beast" (directed by Guillermo del Toro) will begin shooting next summer. You can read the article here, as well as view the photoshoot that accompanies the article here.