"J.K. Rowling: Life After Potter" Australian Special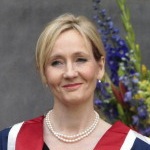 Aug 27, 2012
J.K. Rowling will be interviewed by Jennifer Byrne and discussing her post-Potter life on Australia's ABC network. This is solely an Australian special, titled J.K. Rowling: Life After Potter. The special will be shown on September 27, the day The Casual Vacancy is released, at 8:00 PM local Australian time on ABC1. The West Australian reports:

"This key interview will be a fantastic opportunity to learn more about J K Rowling's creative process," said Matt Hoy, Hachette sales and marketing director.
"The evolution of her new novel will be all the more exciting in Jennifer's hands, given her well-known passion for books and reading.
Katrina Sedgwick, ABC TV head of arts, said the interview will explore the author's new novel, as well as her past success.
"We are thrilled that Jennifer has been invited to do this interview and has the opportunity talk to J K in depth," she said.
"This is J K's first venture into the world of adult fiction and Jennifer will explore what new challenges she has faced in talking to this new audiences.
"The influence and impact of J K Rowling has been profound in bringing millions of children into the world of literature."

As reported before, Ms. Rowling is planing a few USA interview specials with ABC's Nightline, World News and Good Morning America, and The Daily Show.