Second Pottermore House Cup to be Awarded in November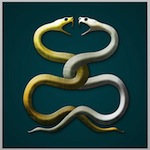 Aug 31, 2012
The Pottermore Insider is reporting that the second Pottermore House Cup will be given out sometime in November:
We're excited to announce that the next Pottermore House Cup will be awarded in November.
The exact date will be confirmed nearer the time, and in the run up to the award, it's time to unite and earn honest points for your houses in this spirited competition. Declare your house pride ' whether you're in Gryffindor, Slytherin, Hufflepuff or Ravenclaw, it's your chance to share your rallying messages.
Last time, Slytherin won the inaugural Pottermore House Cup and as champions, received early access to the first chapters of Harry Potter and the Chamber of Secrets.
This time the winner's reward will be something different, and we'll reveal more details at a later date. Until then, we want to know what you think it might be? You can let us know your ideas on our Facebook and Twitter pages.
Best of luck to all Houses!